𝐅𝐚𝐛𝐫𝐢𝐜 𝐑𝐞𝐜𝐲𝐜𝐥𝐢𝐧𝐠 𝐁𝐢𝐧 @ 𝐏𝐥𝐚𝐳𝐚 𝐓𝐨𝐥 𝐒𝐮𝐧𝐠𝐚𝐢 𝐁𝐚𝐥𝐚𝐤 𝐋𝐚𝐲-𝐁𝐲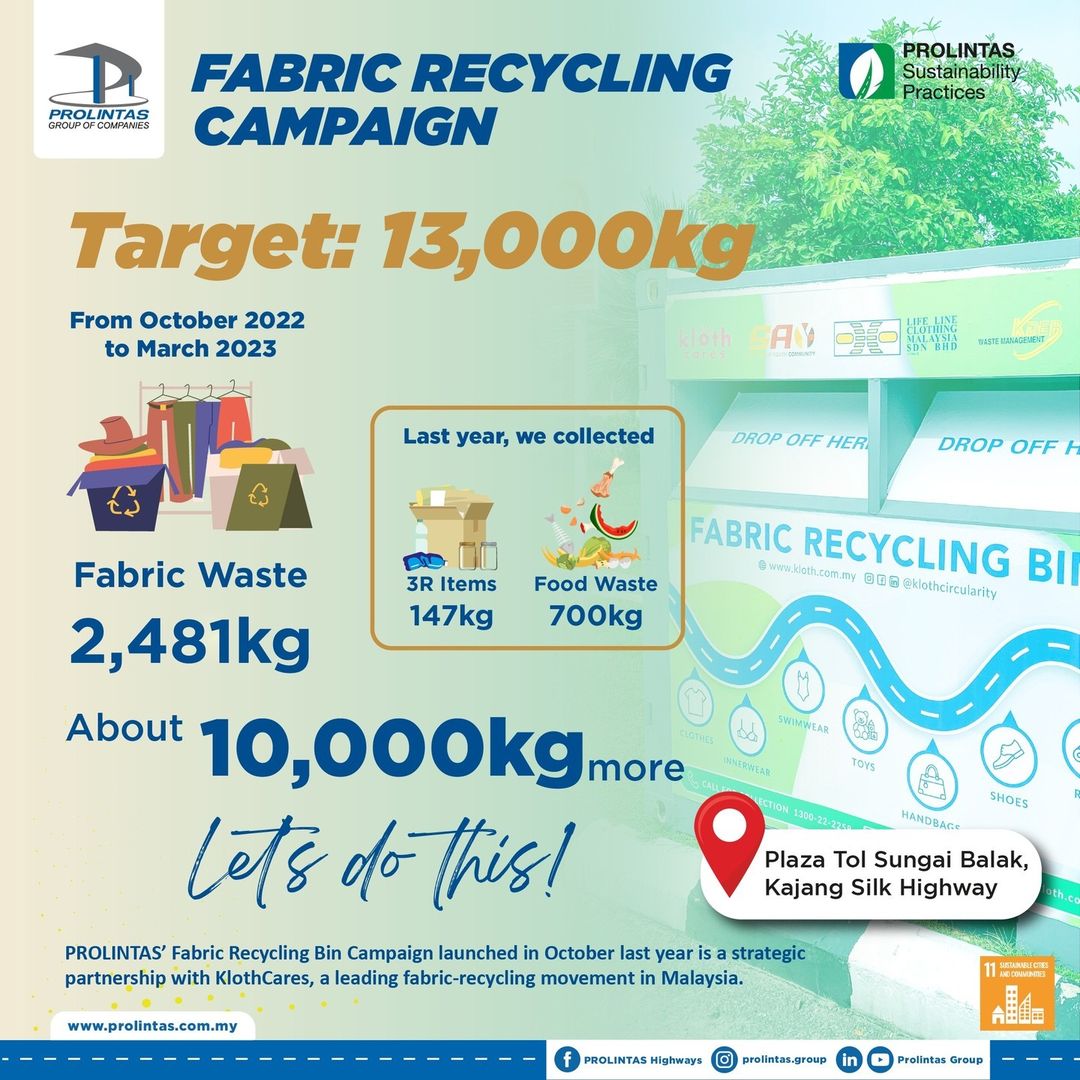 PROLINTAS actively promotes recycling as an effort in practising sustainability. To date, we manage to collect 2,481kg of fabric waste since the launch of the fabric recycling bin at Plaza Tol Sungai Balak Lay-By, Kajang SILK Highway.
The total collection of recycled fabrics within the first six months is much higher than the total 3R items and food waste collected last year. However, we aim to keep 13,000kg of fabrics out of landfills for the first year of this green campaign.
By providing the facility and access for the community to recycle, we contribute to the 11th SDG: Make cities and human settlements inclusive, safe, resilient and sustainable.
We encourage the public, especially SILK highway users and those who live nearby Plaza Tol Sungai Balak Lay-by to drop their used fabrics and garments at our available bin. 𝘍𝘢𝘣𝘳𝘪𝘤 𝘙𝘦𝘤𝘺𝘤𝘭𝘪𝘯𝘨 𝘉𝘪𝘯 is placed next to the toilet and surau.
Together, we can do this! Recycle more, waste less.
#PROLINTASxKlothCares #PROLINTASSustainability #PROLINTASHighways #fabricrecycling #recycle #recyclingproject #recycle4charity #KlothCaresbin #fabricrecyclingbin #greencampaign #recyclingcampaign #gogreen #Sustainability #sustainabledevelopment #SDG #SDGproject