World #QuranHour 2022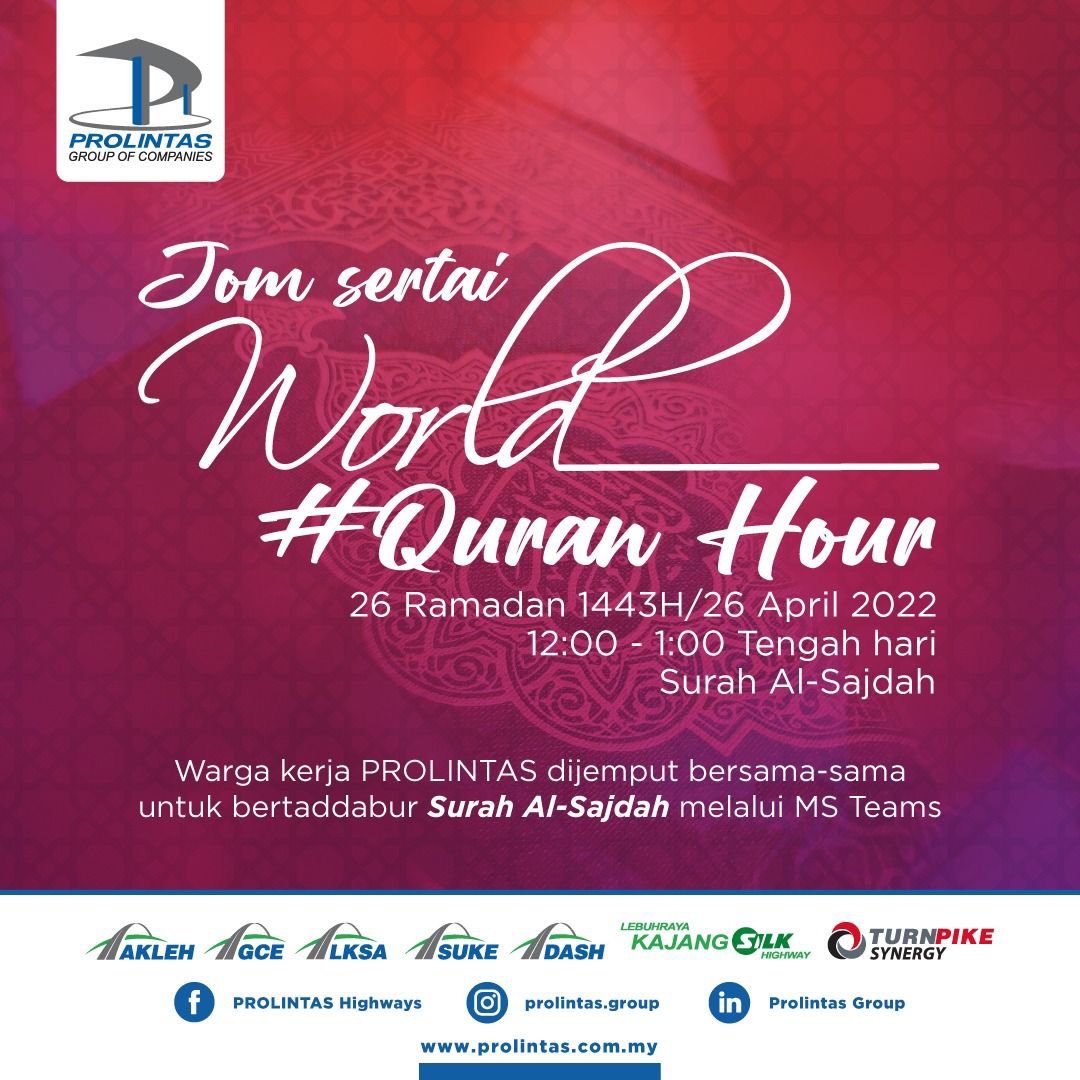 Fasting is one of the five pillars of Islam. Every year, the month of Ramadan marks a momentous occasion in the lives of Muslims throughout the world. It is a month of forgiveness and devotion in which Muslims strive to improve their relationship with God. It is also a time for mind and body purification through self-control and good deeds.
To celebrate the holy month of Ramadan, PROLINTAS has once again collaborated with Karangkraf for the World #QuranHour 2022. The 7th World #QuranHour conveys the mission of Surah Al-Sajdah with the title "The World Prostrates" held concurrently around the world on 26th April, from 12PM-1PM.
World #QuranHour 2022 is a movement to build a system through the Quran and Hadith, adopted by the rest of the world. This year's surah Al-Sajdah was chosen as a theme to create a value system through the Quran and Hadith (thematic and reconstruct) throughout the year. The World #QuranHour programme started with the recitation of Surah Al-Fatihah and Surah Al-Baqarah verses 1 to 7 guided by Ustaz Mohamad Husain Mahmur. It was followed by the recitation of Surah Al-Sajdah by Dr Anuar Hasin, Ustaz Abdul Khair Jalil, Ustaz Ahmad Tirmizi Ali, Ustaz Amirahman Abas and Ustaz Ahmad Tarmizi Abdul Rahman. In the pursuit of an ethical and compassionate society, the surah also seeks to bring the ummah towards its ultimate objective of unity.
Over the course of the one-hour session, a total of 130 PROLINTAS employees from all subsidiaries have participated in the event, reciting the verses of Surah Al-Sajdah. With guidance from a team of scholars, each passage of the surah has been deciphered, leaving us with a fundamental understanding of the entirety of the surah. In general, this surah plays a role to answer some of the doubts and rebuttal the arguments of the non-believers against the principles of Tawhid, Risalah, and Akhirah. We hope everyone finds the session fruitful and that we can continuously be on the lookout for ways to improve ourselves.
We hope that our support for the World #QuranHour during Ramadan will encourage more corporations to join in this noble endeavour. Taking this opportunity, we would like to wish Selamat Hari Raya Aidilfitri, Maaf Zahir dan Batin to everyone in PROLINTAS. Always be safe on the road when traveling back to your hometown and adhere to all safety protocols (SOP). Have a blissful Raya! #WorldQuranHour #employeeengagement #employeeactivities