RSA Elmina Selatan terima Anugerah TOTYA 2023, tandas bertaraf BMW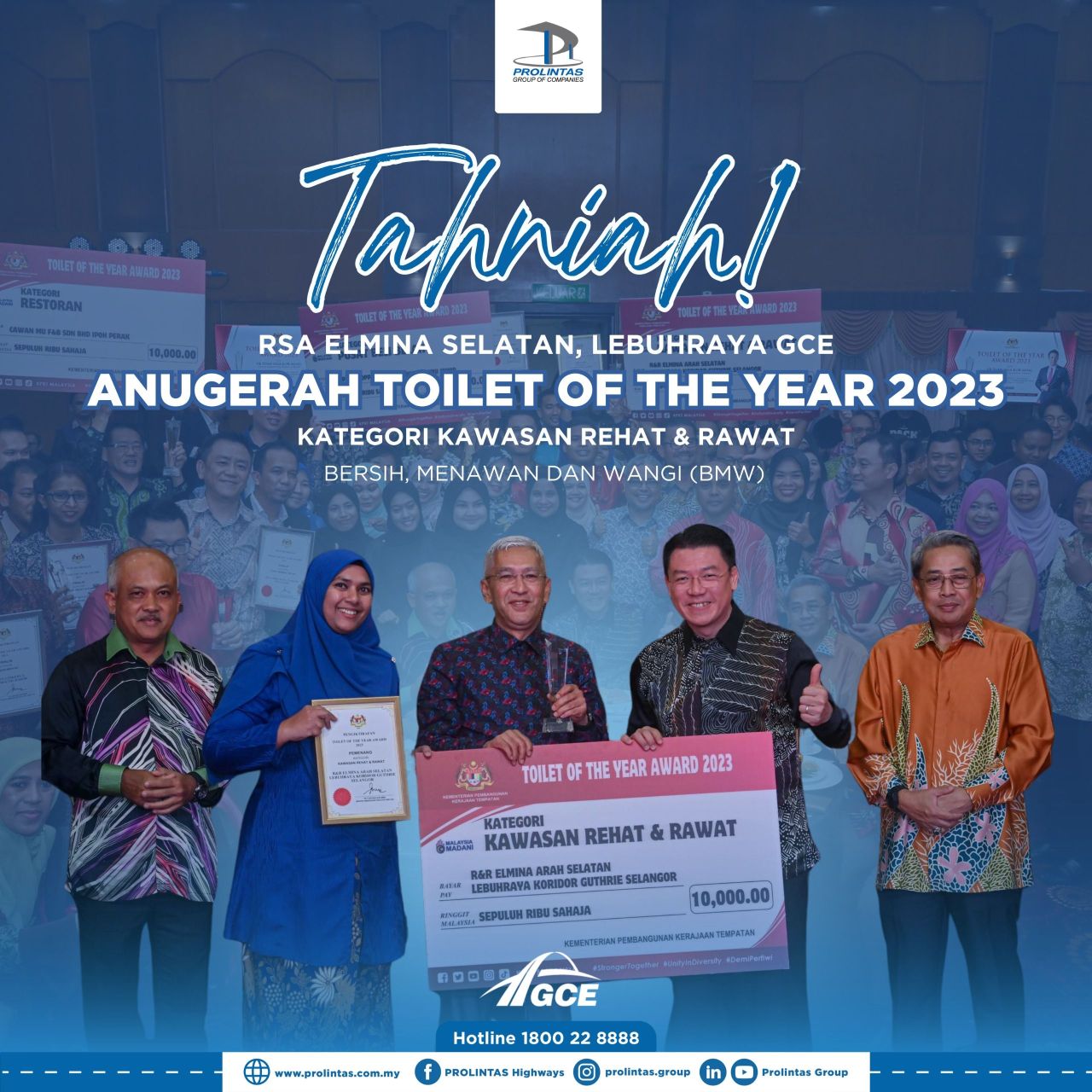 RSA Elmina Selatan, Lebuhraya Koridor Guthrie (GCE) telah memenangi Anugerah Toilet of The Year (TOTYA) 2023 bagi kategori Kawasan Rehat dan Rawat (R&R) lebuh raya seluruh Malaysia.
Anugerah yang disampaikan oleh Menteri Pembangunan Kerajaan Tempatan, YB Nga Kor Ming itu diterima oleh Pengurus Besar Operasi Lebuhraya PROLINTAS, En. Azmee Nin dan Ketua Divisyen Kejuruteraan Sivil & Struktur, Pn Noor Haslinda Hamdan dalam satu majlis, pada 30 Oktober 2023.
Pemenang membawa pulang hadiah wang tunai RM10,000, beserta piala dan sijil.
TOTYA 2023 yang julung kali diadakan tahun ini oleh Kementerian Pembangunan Kerajaan Tempatan (KPKT) merupakan inisiatif untuk memberi pengiktirafan kepada premis swasta yang berjaya menyediakan tandas awam bertaraf Bersih, Menawan dan Wangi (BMW).
Sementara itu, RSA Elmina Utara juga disenaraikan sebagai salah satu finalis daripada 345 penyertaan yang diterima melibatkan lima kategori dipertandingkan; hotel, pusat beli belah, R&R, stesen minyak dan restoran.
Pencapaian ini mencerminkan kualiti perkhidmatan yang disediakan di lebuh raya kendalian PROLINTAS sentiasa pada tahap yang terbaik.
Syabas buat pasukan yang terlibat dan semoga ia menjadi perangsang kepada semua warga PROLINTAS untuk terus melakar kejayaan dalam bidang masing-masing!